One of our all-time favorite Namibian lodges has had the most magnificent revamp – and we can't wait to head over to the spectacular desert region of Sossusvlei to experience it for ourselves.
Nestled deep in the heart of Namibia's ancient Namib Desert, &Beyond Sossusvlei Private Desert Reserve is a world of vast spaces, endless horizons and extraordinary clarity of light that makes this area one of Africa's most compelling landscapes.
A spectacular masterpiece of glass, rock and steel pavilions with a bold geometric structure at its center, the lodge extends over vast dunes and gravel planes, in perfect harmony with its elemental surrounds.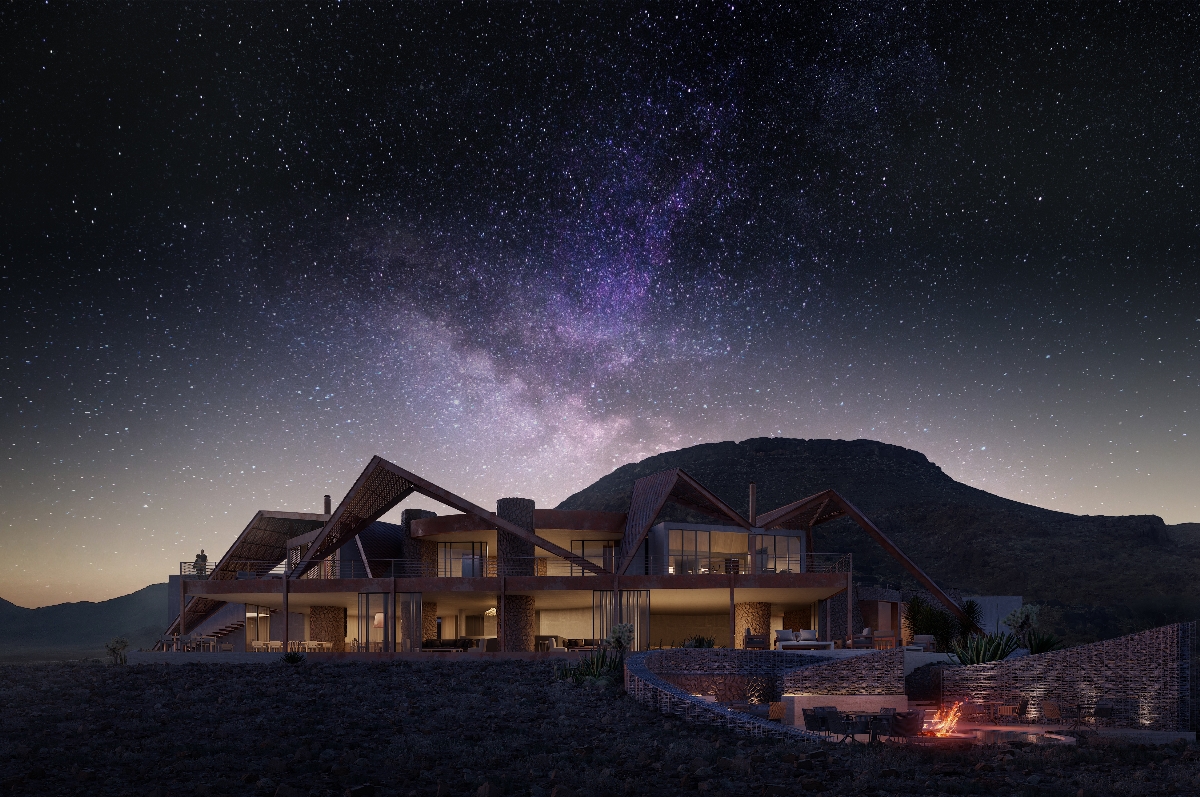 Overlooking the pristine natural terrain, 10 exquisite suites offer the sophistication of simplicity and the two-bedroomed 'Star Dune' Suite is ideal for families or groups of friends, who prefer more privacy.
The guest area features floor to ceiling, frameless glass panels that fold away to reveal unobstructed desert vistas.
An interactive kitchen design allows guests to create their own dishes and a fine selection of wines are the perfect complement to the most divine feasts.
Other signature features include a one-of-a-kind gym, a two-part wellness center offering a treatment room and a private spa-bath, as well as a wet treatment room. The Lodge Shop displays Namibia's finest craft offerings.
Desert Safari Experiences 
Stand, fascinated, inside the unsolved mystery of fairy circles…
Game drives, quad-biking, hiking or mountain-biking will get you close to Oryx, Springbok, Hartmann's Zebra and Bat-eared Foxes!

After the sun sets, a whole new world descends, surrounding you in the most spectacular skyscape of stars, the absolute remoteness of the desert allowing the sky to be utterly untainted by urban light pollution.
Why we love it
Awe-igniting stargazing at a world-class observatory, accompanied by the experienced resident astronomer
Specialist-led guided desert experiences
Unforgettable dune dining
Scenic desert drives in open 4 x 4 vehicles
Early morning scenic hot air ballooning flights
A romantic idyll perfect for honeymooners and couples 
Fantastic for familie, with children of all ages welcome – and especially catered for with an incredible WILDChild Programme! (It's even possible to book Triple rooms.)
The desert is malaria-free!
Stay longer for less
Love the idea of infinite rolling red dunes, rugged mountains, iconic wildlife and a blanket of shimmering stars descend?
If you stay 5 nights or more at a combination of Namibian lodges and camps, you save up to 10% and feed your soul!
Get in touch with us to find out more!