Southern Africa is a place of great magic, adventure and excitement, but that doesn't mean it has to exclude your little ones. This corner of the world is a wonderful place for families to play, learn and bond together. Children of all ages will revel in the space and diversity of nature here and delight in exploring one of the most beautiful destinations on the planet. Below is a list of our top ten family-friendly safari accommodation options, most of which are malaria-free.
1. Ant's Nest
Ant's Nest is a private game reserve in the Waterberg region of the Limpopo Province. Located an easy road transfer away from Johannesburg, this malaria-free area is a combination of rocky outcrops, grassy valleys and mountains. The highlight for most families at Ant's Nest is the opportunity to go walking and horseback riding in the bush. Horse riding at Ant's Nest is especially popular and a great way to get up close to the animals. There are none of the Big Five here, and so kids can roam and explore safely to their heart's content. The lodge prides itself on its 'home away from home' atmosphere, thanks largely to its flamboyant and charismatic owner.
2. Khoka Moya
Khoka Moya is located in the Kruger National Park region, specifically in the Manyeleti Game Reserve. This is a malaria area, and so not suitable for very young children. For kids from about six and upwards the camp has a special children's program. The big lawn is ideal for playing cricket and soccer, but most activities are focused on nature and exploring the bush environment. In the event of cold weather, the children's room has a great collection of DVDs, and a small library with a member of staff to oversee them at all times. Other activities include bead-making, baking, colouring-in, painting and crafting. Of course, if parents want to give their children a first-hand experience of the animals, they can accompany them on game drives as long as certain safety rules are adhered to.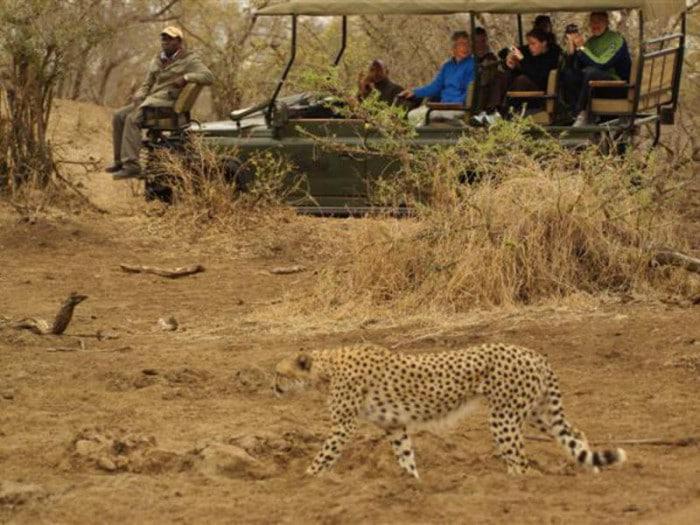 3. Grootbos
Grootbos is on the coast – about 90 minutes drive from the city of Cape Town – and in close proximity to the prime whale watching and shark viewing towns of Hermanus and Gansbaai. Here families will be able to catch a glimpse of the Big Five of the ocean – seals, penguins, dolphins, sharks and, of course, whales. The lodge itself is extremely family-friendly with a strong natural feel and ethos including a children's entertainment room and outdoor play area complete with ducks and rabbits that will certainly keep the little ones busy. There are various marine based activities on offer, as well as beautifully maintained horse stables, mountain biking and guided nature trails for older kids. There is also a wooden deck which is perfect for sun seekers and nature lovers to enjoy the incredible vistas over the Fynbos and Atlantic Ocean. Staying at Grootbos is like staying at a safari lodge at the sea.
4. The One & Only
Most people know The One & Only as one of Cape Town's most exclusive hotels with magnificent views of Table Mountain, the city and the Waterfront. But did you know that it is actually also very child-friendly? Not only is this hotel located in close proximity to all the V&A Waterfront attractions such as the Scratch Patch, the Two Oceans Aquarium, harbour cruises, the Robben Island Ferry and a myriad of craft markets. It also boasts the best Kids Club in Africa, offering state of the art activities such as arts and crafts and digital games. Be sure to request one of the amazing interleading suites.
5. Rocktail Bay
Rocktail Bay is the perfect place to introduce kids to the wonders of the ocean. There are numerous adventure activities on offer, including scuba diving, snorkelling, and ocean safaris. For something memorable, plan your visit around turtle nesting season. Located in the warm waters of the KwaZulu Natal coastline, Rocktail Bay Lodge provides a rustic, but comfortable setting that the entire family can enjoy. This is the perfect destination to combine with a Big Five safari at either Phinda or Thanda.
6. Ker & Downey's Young Explorer's
The Young Explorer's adventure camp is located in the Okavango Delta in Botswana and is specifically designed to provide an authentic safari experience for the entire family. The camp is famous for one thing – exclusivity. The guides are experienced and love working with children, teaching them all sorts of skills needed to survive in the great outdoors. But please note that this camp is in a malaria area and thus not suitable for young children.
7. Anantara Bazaruto
Located on the charming Bazaruto Island just off the southern coast of Mozambique, Anantara Bazaruto is an island resort known for its barefoot luxury, spa, warm Indian Ocean, some of the world's best diving and fishing, beach activities and a tropical paradise setting. Let's be honest, though, a relaxing holiday for parents is often a bore for the kids. That's why Anantara has designed an Activities Centre filled with all sorts of water sports activities, games, crafts and other facilities to keep the kids entertained and occupied. Being a resort, there are likely to be some other children to play with too.
8. Jaci's Camp
A popular camp in the well-known malaria-free Madikwe Game Reserve, Jaci's Camp, was one of the first openly child-friendly safari lodges in South Africa, probably due to the fact that Jaci himself raised his children on the reserve. The camp is easily accessible by road transfer from Johannesburg, or via a short scheduled charter flight. Jaci's Camp arranges special family game drives so that everyone gets the chance to see the Big Five and possibly even a sighting of the rare Wild Dogs.
9. Thanda
Thanda Game Reserve in KwaZulu Natal is another example of a family-owned property that caters to the specific needs of travelling families. Built and owned by a Swedish family with young kids, this is a Big Five Reserve where children are likely to have their first memorable encounters with many of the animals that till now they have only seen in books and on the Discovery Channel. There are many special kid-friendly activities such as the Junior Rangers Course and the Buck and Bugs Entertainment facilities, as well as the opportunity to experience the fascinating Zulu culture first-hand.
10. Swakopmund Guesthouse
The Swakopmund Guesthouse is located in the town of Swakopmund on the coast of Namibia. 'Swakop' as it is fondly referred to by the locals, is known for its wide range of desert adapted adventure activities including sand boarding, quad biking and so much more. There are also many activities that are kid-friendly such as camel riding in the dunes, visiting the highest sand dune in the world at Sossusvlei and taking boat trips to see the pelicans and flamingoes.
The Southern Region of Africa is packed with exciting, nature centred activities suitable for the entire family. Whether it's learning about ancient hunting skills, digging for gemstones or taking part in fun arts and crafts activities, children are bound to find something fun wherever they go. So, when you consider an African Safari, don't leave the kids with granny and gramps, bring them along too!