There is no better way to end off a perfect hot, windless Cape Town day than by watching the sun set over the glittering Atlantic ocean accompanied by a crisp glass of Cape Sauvignon Blanc and a platter of sushi. The combination is pure Capetonian bliss!
Famed for its cosmopolitan lifestyle, spectacular scenery and beautiful beaches, this vibrant city is often featured on 'top travel destinations around the world' lists and is also known as the gourmet capital of Africa.
When it comes to this delectable Japanese culinary invention, Capetonians are simply spoilt for choice. Since this is a harbour city, fresh fish caught off the shores of South Africa is readily available, and the city is literally swarming with sushi restaurants. If you want to get the lowdown of where to find these tantalizing bite-sized treats, then our pick of the following top 5 sushi restaurants is a great starting point.
1. Nobu
If money is not an issue, then visiting the world-famous Nobu located in the heart of the V&A Waterfront at the extraordinary One&Only hotel is a must!
The brainchild of internationally acclaimed sushi celebrity chef Nobuyuki Matsuhisa, this is the 'Rolls-Royce' of sushi and the restaurant is world-renowned for its excellent service and superior cuisine. With branches all over the world, Nobu Cape Town serves up classical and innovative Japanese dishes with a South African twist. Try their Yellowtail Sashimi with Jalapeno or the Suntory Whiskey Cappuccino.
Relax in luxurious surroundings at the chic Ceviche Bar which offers excellent sushi sharing platters, or sample a selection of Sakes, Japanese beers and Asian-inspired cocktails upstairs at the Nobu Lounge, either way, you are assured of a sensational sushi taste experience.
2. Willoughby & Co
One of my personal favourites, Willoughby's never disappoints and consistently serves up some of the most mouthwatering sushi in Cape Town.
Located inside the hustle and bustle of the V&A Waterfront shopping precinct, Willoughby's has a vibrant atmosphere and you usually have to queue for a table as they don't accept reservations.  But the short wait is definitely worth your while!
Sink your chopsticks into a wide array of moreish sushi options such as the Salmon Grenades (salmon roses filled with spicy salmon, drizzled with sweet soya sauce and chili mayo, topped with tempura and spring onions) or the Rainbow Reloaded Rolls (topped with deep-fried prawns and tossed in a spicy chili-bean mayo) … yum!
If you want to escape the bustle of the concourse, then they also offers seating inside at the sushi counter where you can watch the knife-wielding maestros create exquisite masterpieces.
3. Takumi Sushi
If you're looking for something more authentic, with a laidback modern-Japanese charm, then Takumi Sushi is hard to beat. Located in the city centre this quirky restaurant is run by sushi master and head chef Hatsushiro Muraoka (affectionately known in Cape Town circles as Papa San) and serves up top-quality sushi at reasonable prices.
Relax and enjoy Papa San's hospitality as you feast one some of his innovative creations such as the Coriander Inside Out Rolls (which combine seared salmon with coriander, avocado, cucumber and yuzu lime mayo) or try his Spider Rolls (tempura battered soft-shell crab with cucumber, avocado and mayo).
Takumi and Papa San have an unmistakable Japanese charm about them. I especially love his exquisite salmon roses, and you can even order sushi to go if you're in a hurry.
4. Beluga and Sevruga
If you fancy going for a lazy lunch or an early dinner in a posh setting that offers great value, then one of these sister restaurants (which fall under the Caviar Food Studio Group) is perfect for you.
Located in Green Point at The Foundry, Beluga features an alfresco dining area that opens up into a courtyard full of funky design stores and advertising agencies. Its sister restaurant, Sevruga, can be found harbourside at the V&A Waterfront. Here you can either choose to sit inside in elegant surroundings or opt to sit on the expansive outside deck overlooking the boats in the harbor.
Both restaurants offer sushi that is to die for, as well as great weekday specials on sushi platters and cocktails. I love their Firecracker Rolls, which consists of tempura tuna, avocado and mayo rolled in sesame seeds.
5. Koi Restaurant
If your idea of the perfect evening combines incredible sushi, a fine glass of champagne and breathtaking ocean views, then look no further than Koi Restaurant.
Tucked away in Bantry Bay and part of the Ambassador Hotel, this sushi gem is perched right at the water's edge with 180 degree Atlantic seaboard views. Does it get any better than this?
Feast on the KOI Roses or 12-piece sashimi platters, either way, you are guaranteed a taste sensation with a view.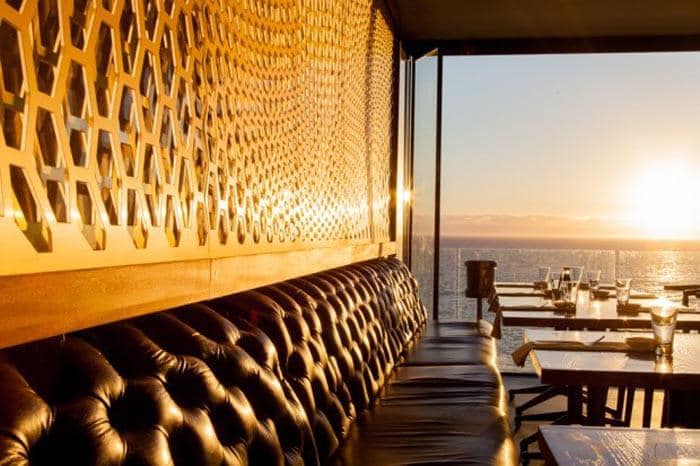 So the next time you're in Cape Town and feel like a tantalizing treat, try any one of the above sushi restaurants. I can guarantee you'll be back for more.