By now we're all familiar with the concept of the proverbial 'bucket list' ‐- "amazing things to do before you shuffle off your mortal coil" ‐- but when it comes to African safaris, we prefer to veer away from the usual, predictable bucket list inclusions – and go deeper. Much deeper!
We're about truly authentic safari experiences that immerse you in the spirit of this incredible continent — through the people you meet, the places you visit, the things you do, and the connection you make to the African wilderness.
To us, the "REAL" African safari bucket list needs to reflect this and be populated with things to do right now, rather than at some intangible point in the future 'before you die'! So let's have a look at some of the experiences that we include on our "REAL" African safari bucket list…
---
1. Walking safaris
You've not experienced the real Africa until you've walked through her wildernesses, trodden her secret paths, felt her soil beneath your feet, and slept beneath her stars…
A walking safari connects you instantly with wild Africa, humbling you in the process as you explore on foot, relying 100% on your safari guide and the knowledge and understanding they possess. It's a literal leap of faith and gives you a vastly different view of the "wild".
It's while you're walking that you experience profound, life-changing humility in the presence of Africa's iconic wildlife species and marvel at the way everything in nature is connected and part of something greater and altogether mind-boggling!
---
2. Gorilla-trekking
It may seem like quite a 'traditional' bucket list experience, but when you actually do it, gorilla-trekking is so much more than just a 'tick' on a bucket list!
---
Besides the awe-igniting thrill of coming face-to-face with critically endangered mountain gorillas in their natural habitat – whether it's in Rwanda or Uganda – a gorilla safari offers you the opportunity to meet the most incredible people, and learn about their culture, traditions, and food with unique behind‐the‐scenes experiences and authentic interactions that will stay with you for a lifetime.
---
It also opens you up to the truly phenomenal work being done by people on the very front line of conservation ‐ the anti‐poaching officers, patrol scouts, and fearless protectors of our rare and endangered species who risk their very lives to protect them.
---
3. Going everywhere s-l-o-w-l-y
Spending quality time on your safari is absolutely a "REAL" bucket list experience! Instead of a quick in-and-out at multiple stops on a jam-packed itinerary, taking the time to unpack, unwind and fully absorb a destination, meeting and truly getting to know its people, its unique sense of place, and its often hidden-treasure nuances, is much more like it in our book!
We recommend rather spending five nights or more in one place, and really explore and discover what makes it uniquely special. Some call it 'Slow Travel'; we call it the best way to discover Africa!
---
4. Big cat action!
The chance to see magnificent big cats in their natural habitat is usually close to the top of the average bucket list.
But then again, we don't do average –‐ we do authentic!
---
We take you to the remote, wild places where leopards, lions, and cheetahs can be seen at close quarters in broad daylight, allowing you to capture their essence and learning to truly understand their behavior – and the challenges to their continued survival.
Getting you closer helps you truly appreciate the magnificence of each animal — and the need to protect and conserve them for future generations.
---
5. Africa at a gallop
Ever since Karen Blixen rode to the rescue of her errant husband in "Out of Africa" the concept of seeing the African wilderness on horseback has appealed to an ever‐growing audience!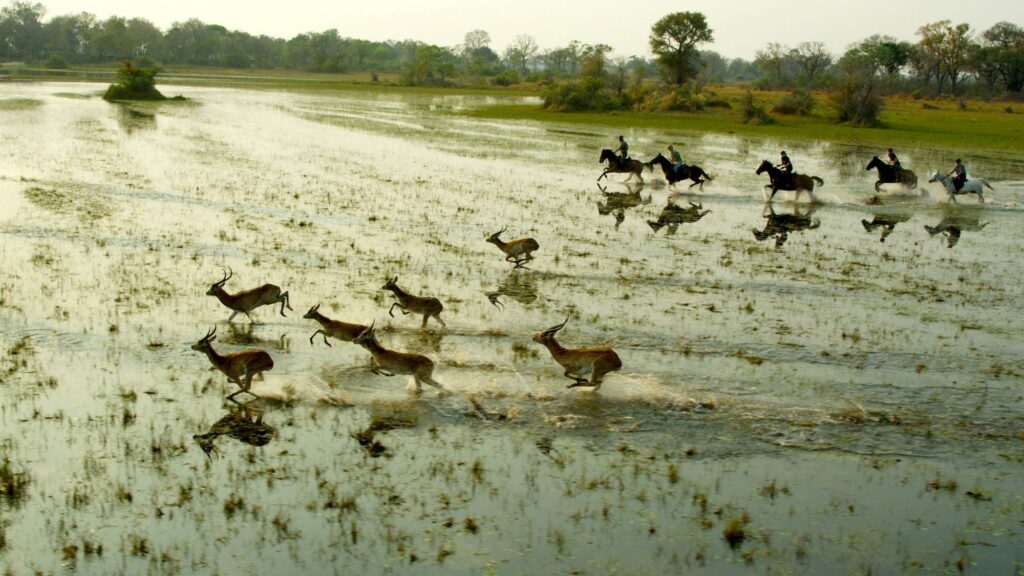 ---
Today, horse safaris in Big Five country are one of the most thrilling ways to experience the African wilderness and the creatures of hoof, horn, tooth, and claw who inhabit it!
Whether it's galloping across the great plains of the Serengeti and Masai Mara or navigating the wetland wonderland of the Okavango Delta from the saddle, a horse safari helps you become one with the wilderness, giving you a unique perspective and incredible respect for those pioneering men and women who put Africa on the map.
---
6. Getting airborne
Africa from the air is a sight to behold! From hot‐air ballooning over a sea of red sand dunes at sunrise in Sossusvlei, Namibia to helicopter flights around South Africa's spectacular Cape Peninsula and microlighting over the breathtaking Victoria Falls, getting airborne over Africa is definitely a REAL bucket list experience!
---
We couldn't help but bring up "Out of Africa" again… Remember when Meryl Street was flying with Robert Redford in a biplane over the Great Lakes of Kenya, watching flamingoes in their thousands take to the air?
That's the ultimate 'A‐ha!' moment we love to share with our guests, as the sight of Africa unfolding beneath them gives them a sense of just how incredible and completely life-changing this continent really is. (So we guess we better add flying over Kenya in a biplane to the REAL bucket list as well! It's absolutely possible and highly recommended!)
---
7. Getting out ON the water…
When it comes to REAL bucket list experiences, being silently poled through the Okavango Delta in a mokoro (a dug‐out canoe) comes as close to heaven as you can get!
---
Watching the pristine wilderness pass by as you glide across crystal clear waters filled with life is just sublime and gives you a more intimate, natural viewpoint from which to spot incredible birdlife and a rich diversity of the most iconic (and also more shy, and lesser known) wildlife species.
Indeed, getting out on some of Africa's most celebrated rivers, lakes and dams is something we highly recommend. From canoeing along the Selinda Spillway and river safaris along the mighty Zambezi to cruising Lake Kariba or the Chobe River on a luxury houseboat, being on the water gives you a deeper awareness of how water really is the lifeblood of this precious planet.
---
8. Getting IN the water!
It's hard to beat the adrenaline‐pumping, heart‐thumping thrill of seeing great white sharks at close quarters on a shark-cage diving eco-adventure, or the awe and wonder of exploring vibrant coral reefs and the fascinating sea-life while snorkeling or diving.
---
All of these things are REAL bucket list experiences that involve you getting in the water, getting you closer to incredible marine life in the process!
When it comes to apex predators, it doesn't get much more apex than the great white shark. But rather than being feared for those legendary "jaws", seeing this magnificent creature up close is a revelation as to how misunderstood they are and a lesson in the important role they play in maintaining balance in their eco‐system.
Shark cage diving is 20% 'activity' — and 80% 'learning' about the creature that's been reviled for centuries and the challenges it faces. That's why we can't recommend it highly enough.
Of course, snorkeling and diving in the turquoise seas of the Indian Ocean are fabulous REAL bucket list experiences. With crystal clear visibility, wonderfully warm water, and a mesmerizing host of incredible marine life on display, taking the plunge along Africa's wonderful east coast and its islands is not to be missed!
---
Chat to us about these (and more!) REAL bucket list experiences.
Let's start ticking them off with you!